National Intelligence Service says it mobilised cyberwarfare experts to ensure Park Geun-hye beat rival and now president Moon Jae-in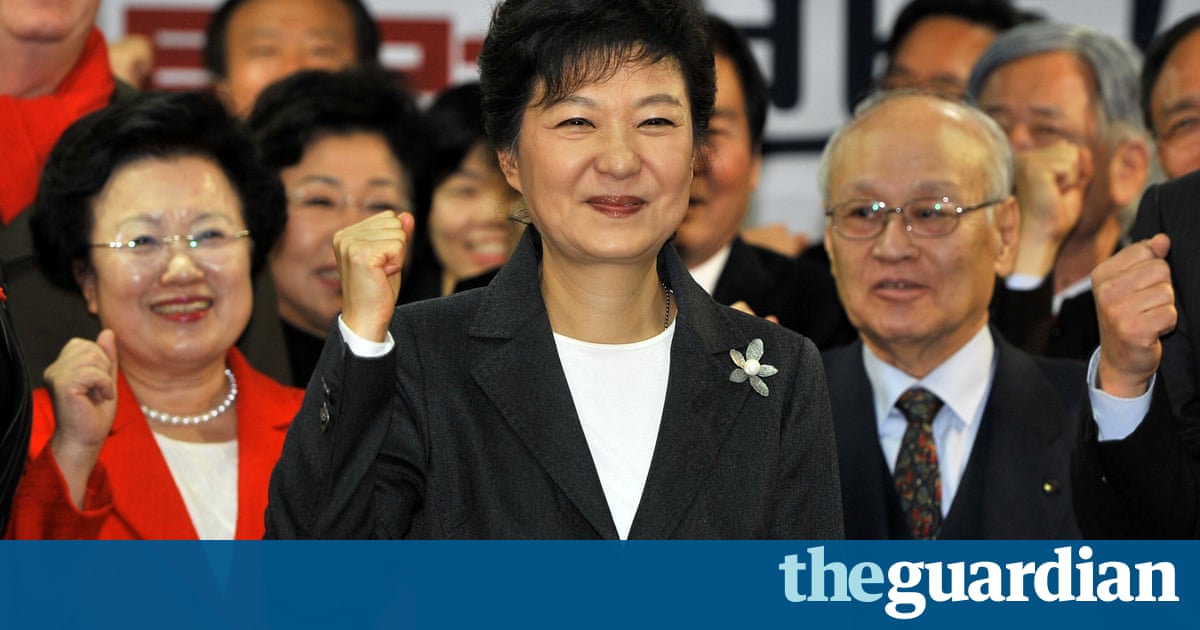 South Koreas spy agency has admitted it conducted an illicit campaign to influence the countrys 2012 presidential election, mobilising teams of experts in psychological warfare to ensure that the conservative candidate, Park Geun-hye, beat her liberal rival.
An internal investigation by the powerful National Intelligence Service also revealed attempts by its former director and other senior officials to influence voters during parliamentary elections under Parks predecessor, the hardline rightwinger Lee Myung-bak.
Claims, now confirmed by the service, that it was behind an aggressive online campaign to sway voters is certain to add to public anger towards South Koreas political system.
Park, who narrowly beat the current president, Moon Jae-in, to become the countrys first female president in the 2012 vote, is standing trial on corruption and abuse of power charges, and faces life in prison.
Media coverage of the scandal that led to her impeachment late last year revealed widespread collusion at the highest level of South Korean politics and business, and propelled Moon, a left-leaning liberal, to a landslide victory in May.
Moon, who was the target of a smear campaign by the NIS during his first, failed, run for the presidential Blue House in 2012, has vowed to reform the spy agency to prevent it from influencing future elections.
He has said intelligence officials should focus on foreign affairs, including countering the threat from North Korea.
The NISs in-house investigation found that its cyberwarfare unit formed as many as 30 extra-departmental teams comprising officials and internet-savvy citizens to upload posts in support of conservative politicians for two years in the run-up to the 2012 presidential vote.
The teams were charged with spreading pro-government opinions and suppressing anti-government views, branding them as attempts by pro-North Korean forces to disrupt state affairs, the NIS report said.
A spokesman for Park claimed the NIS inquiry was politically motivated. The NIS says it will dissociate itself from politics but it is meddling in politics again by starting this probe, Kang Hyo-sang, of Parks opposition Liberty Korea party, said in a statement.
The report was released on the final day of the trial of Won Sei-hoon, the NISs director from 2009-13, who is charged with orchestrating the clandestine campaign to boost support for Park.
According to South Koreas Yonhap news agency, the report said that days before the 2012 election, NIS officials who are usually engaged in psychological warfare against North Korea, posted messages critical of Moon on social networking and news sites.
The NIS taskforce said similar attempts had been made to influence elections for the national assembly in 2011 and 2012, during which it also put prominent opposition politicians under surveillance, Yonhap added.
Transcripts show that Won, who faces a four-year prison sentence, urged senior NIS officials to intervene in elections, telling them that the battle against anti-government forces was on a par with the countrys clandestine campaign to destabilise North Korea.
Our psychological operations against North Korea are important, but our psychological operations against the South Korean public are pretty important, too, Won said during a meeting in April 2012 eight months before the presidential election according to the Hankyoreh newspaper.
The NISs new director, Suh Hoon, has vowed to end the agencys involvement in domestic politics.
We are dropping involvement in politics and strengthening our core intelligence capabilities by focusing on our traditional role in national security [and] handling operations regarding overseas affairs, including North Korea and antiterrorism, Huh told the South Korean parliaments intelligence committee last month, according to the Hankyoreh.
Read more: http://www.theguardian.com/us